This page is the brochure for your selected program. You can view the provided information for this program on this page and click on the available buttons for additional options.
England, London: Elon Center Abroad (FIE)
London, England
(Outgoing Program)
Featured: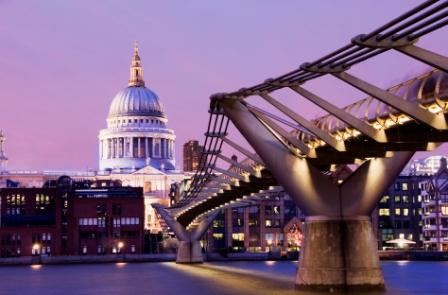 About the Location
London is one of the most ideal places to study abroad. Besides having one of the most diverse populations in the world, it is a thriving center of politics, art, science, music, theatre, literature, business and more. The Elon Center in London is presented in partnership with Foundation for International Education (FIE).
Academics
The Elon in London semester is divided into two phases with an orientation at the start and mid-term break, for a total of 15.5 weeks. All students will take courses during the first phase and can choose one of three course pathways during the second phase: internship, service learning, or research. Each pathway grants academic credit. Click
here
to learn more about the phases.
Additional information about
course equivalents
for this program is available through the GEC website (Elon password required).
Courses take place Monday through Friday. All students will take a total of 16 credits. Two courses are
required
:
One of four Key Courses: British Life and Cultures, British Life and Business, Britain and Europe, or British Culture and Visual Media (4 credits)
An unpaid internship*, service learning placement*, or research course (4 credits) Click here to learn more about preparing for an internship or service learning placement.
Students will earn the remaining 8 credits by taking one FIE elective and the GST interdisciplinary capstone seminar taught by Elon Faculty in Residence (see below), or by taking two FIE electives (more information on electives is below).
GST 356 IS/ELR – 4 credits (credit for GST Interdisciplinary Capstone Seminar)
The topic of this seminar changes every semester as the faculty member in residence changes.
Fall 2013: London: Travelling Through Time Along the Thames
Dr. Heidi Frontani (Geography)
Millennia ago, glaciers moved the River Thames southward towards its present course. In 43 CE (AD), Romans invaded Britain and formed a settlement on the Thames called Londinium (present-day London). Through the ages, the river has been London's highway, its lifeline, and its sewer. It has been a site for healing and renewal, royal processionals and commoners' festivals, and an inspiration for composers, authors, poets, and painters. The river allowed the British easy access to the sea and, upon solving the mystery of longitude, a relatively safe means to expand their power and build an empire, but it failed to provide Britons effective refuge from the Black Death or Great Fire, or defense against the Romans and Normans. In this course we will examine what the Thames has meant to London's inhabitants, from commoners to royalty, over time, through readings, discussion, and field excursions. This course is writing intensive.

Spring 2014: Tea, the Telegraph, and the Tube: Everyday Life in Victorian London
Dr. Janet Myers (English)
During the nineteenth century, London's population exploded to include more than six million people, while the impact of the Industrial Revolution fueled technological advancements that transformed the city and its inhabitants. Drawing on the disciplines of history, art history, and literary studies, this interdisciplinary seminar analyzes how these changes shaped everyday life in London, from tea-drinking rituals to riding the Tube, and from reading novels in serial format to the realities of urban encounters with dirt, disease, and crime. Our classroom readings and discussions of historical accounts, fiction, and art objects will be complemented by experiential learning opportunities throughout London as we tour a 19th century tea clipper, study genre painting at the Victoria and Albert Museum, visit the Charles Dickens Museum, take walking tours of the city, and enjoy afternoon tea at Kensington Palace. These experiences and others will allow us to reflect on how everyday life in contemporary London has been influenced and shaped by the Victorians. This course is writing intensive.

Fall 2014: Identity Across cultures: Great Britain
Dr. Anne Simpkins (Art)
This course will explore identity and culture with a particular focus on the multicultural context of Great Britain. As an advanced GST taught while abroad, we will have the unique opportunity to observe, discuss and document the many communities of London. Drawing on the long and well-documented multiculturalism of London, we will reflect critically about ways in which identity and culture is demonstrated and conveyed through thefilters of the arts, literature, history, and lifestyle. We will focus on cultural influences affecting personal and group identity development. Finally we will reflect how background affects our own personal identity development and management of group identity. We will consider artistic, sociological, anthropological, and historical materials relating to culture and identity and apply them to topics of interest and importance in British society. This course is writing intensive.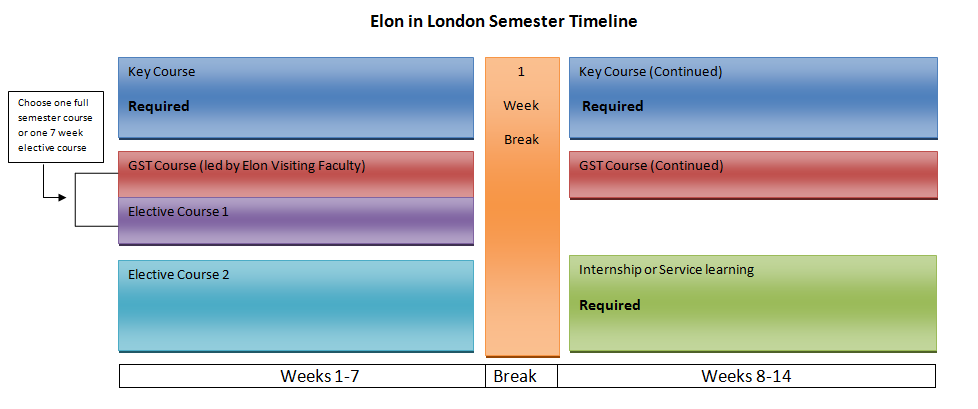 Electives - More than 25 courses are available in arts, literature, theatre, global business, media and communications, history and politics, and humanities and social sciences. To see the list of FIE elective courses, please click here. Click here for the London Course Request Packet.

Attention Music Students:
Credit bearing and non-credit bearing private voice instruction is also available for an additional fee. Contact the London program advisor for more information.
FIE has a piano for students use. Contact the London program advisor for more information on scheduling piano practice time.
Study abroad courses may not be taken on an audit or pass/fail basis.
Grades count toward an Elon GPA.
*Students undertaking an internship or service learning placement are required to obtain a pre-entry clearance visa. Specific information on the visa application process will be discussed in pre-departure orientations.
General Program Dates
Dates for Fall 2014 are as follows:

Arrival: Sept. 3, 2014
Mid-term Break: Oct. 27 - 31, 2014
Departure: Dec. 21, 2013

Dates for Spring 2015 are as follows:

Arrival: Jan. 7, 2015
Mid-term Break: March 2 - 6, 2015
Departure: April 26, 2015
Cost
Costs for study abroad vary program to program and will not be exactly the same as on-campus costs of attendance at Elon.
For cost information for this program, please see the budget sheets:
Scholarships/Travel Grants
Need-based scholarships are available for Elon semester programs through the GEC. For additional information on scholarships or other funding for study abroad, see the Funding for Study Abroad page.
If you qualify for a travel grant through any of the fellows or scholars programs, see the appropriate program director for more information on how to apply the grant to your study abroad program. Visit the Deadlines and Events Calendar for travel grant deadlines.
FIE offers scholarships to students studying in London. Information is available on the FIE website.
Housing
FIE offers student accommodations based in historic and charming Kensington, just a few minutes walk from the Foundation House Study Center. The majority of students live in double-occupancy rooms, while some will live in single, triple or quadruple rooms. Students will live in one of four residences and will be notified of their housing assignment approximately one month prior to arrival. To learn more about FIE's residences, click here.
Eligibility
A minimum GPA of 2.5 is required.
Sophomore, junior or senior standing is required.
Applications
Students must complete the online Elon University Study Abroad Application by the published deadline. See the Deadline and Events Calendar for the most up-to-date deadline information. Applications are generally accepted one year in advance.

Note: This program has limited capacity. Applications for a given term will no longer be accepted once capacity has been reached.
Orientations
A successful semester abroad is dependent upon adequate preparation. Students will participate in a series of mandatory orientations during the semester prior to studying abroad. These orientations will address issues of academic, cultural, logistical, financial, and personal preparation, as well as health and safety. Failure to participate in the required orientations will result in dismissal from the program. Any financial losses incurred by this dismissal, including program fees and international airfare, will be fully the responsibility of the student.
Click here for semester programs and pre-departure orientation schedule.
Once the orientation schedule is set, students will be notified by email of the times, dates and locations.
Additional Information and Links
Want to know more? Join the Global Education Center Facebook page to connect with alumni and other prospective students.

Study Abroad Student Ambassadors (SASAs) are GEC student representatives who have participated in one or more study abroad programs, and have been trained to speak about their experiences. You can be in touch with current SASAs via email, or contact past study abroad participants who have attended your program. They are looking forward to hearing from you!
You can also learn more on FIE's comprehensive website:
Embassy, Consulate, and Visa Resources
UK Embassy in DC http://ukinusa.fco.gov.uk/en/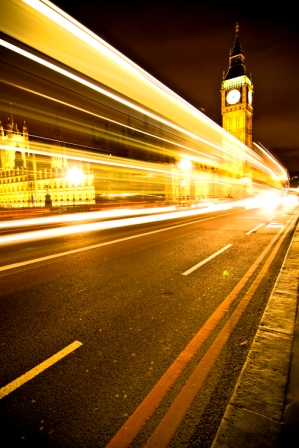 Interesting Course
The most interesting course I took was my British Life and Cultures class. I enjoyed this class a lot because I learned loads of information about British culture and British history and customs. This was helpful because I was able to more thoroughly enjoy my experience.
— Sean Lauwers, Spring 2014
Read what others have said about this program.
Term

Year

App Deadline

Decision Date

Start Date

End Date

Spring

2014

09/17/2013 **

Rolling Admission

01/08/2014

04/27/2014

Fall

2014

02/21/2014 **

Rolling Admission

09/03/2014

12/21/2014

Spring

2015

09/18/2014 **

Rolling Admission

TBA

TBA

NOTE: The priority deadline is May 1. After May 15, this program will continue to accept applications on a rolling and space-available basis until 11:59 PM on September 18.

The start dates and end dates listed reflect the dates students are expected to arrive in and depart from the host location and reflect the best information available to the Global Education Center. Please do not purchase plane tickets based on these dates. Individual programs will provide updates after your acceptance to the program.


** Indicates rolling admission application process. Applications will be reviewed on a space-available basis and applicants will be notified of their application status in a timely fashion.

Indicates that deadline has passed