This page is the brochure for your selected program. You can view the provided information for this program on this page and click on the available buttons for additional options.
England, London: Elon Center Abroad (FIE)
London, England;
London, United Kingdom
(Outgoing Program)
Featured:
About the Location
London is one of the most ideal places to study abroad. Besides having one of the most diverse populations in the world, it is a thriving center of politics, art, science, music, theatre, literature, business and more. The Elon Center in London is presented in partnership with Foundation for International Education (FIE).
---
Academics
Who is this program right for?
This program is right for students in almost any major or minor who are interested in participating in an international professional or service experience. This program offers a wide variety of courses across disciplines and emphasizes the city of London as a classroom. London offers unparalleled diversity of people and experiences, and is known as a world capital of art, music, education, business and pretty much everything else.
What is this program like?
FIE offers students exceptional support resources to make the most of their time abroad. Students on this program take classes with other students from institutions in the United States. Most courses are taught by faculty members hired by FIE, and are typically offered in FIE's building, Foundation House, located in the London borough of Kensington and Chelsea. FIE offers students membership in the Imperial College Student Union as well as International Students House, through which students can access clubs, organizations and activities with local students.
All students on this program will participate in either an internship or a service internship. The Elon in London semester is divided into two phases with an orientation at the start and mid-term break, for a total of 15 weeks. All students will take courses during the first phase; during the second phase students will continue their coursework and start their experiential placement.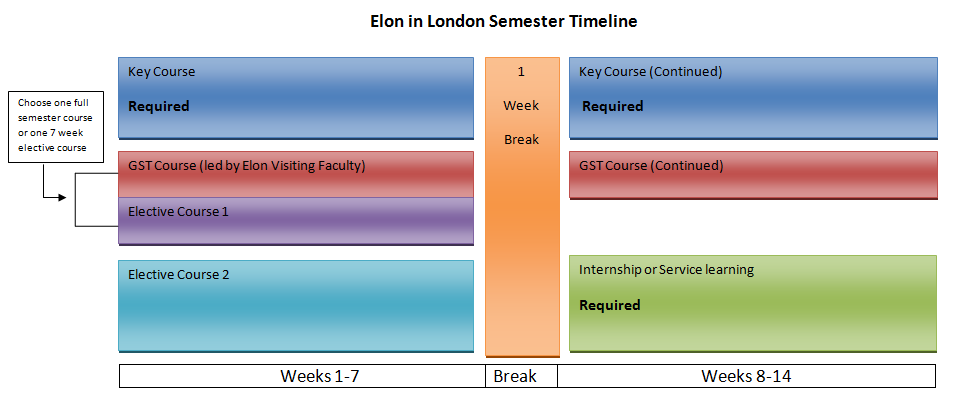 Courses take place Monday through Friday. The program is designed for students to take three courses plus internship for a total of 16 credits; some students choose to take four courses plus internship for a total of 20 credits. Two courses are
required

:
One of four Key Courses (4 credits):

British Life and Cultures
British Life and Business
Britain and Europe
British Culture and Visual Media

An unpaid internship*, service learning placement* (4 credits).
Students will earn the remaining 8-12 credits by taking a mix of FIE elective courses and the Core Capstone Seminar taught by the Elon Faculty in Residence. Information on elective courses can be found in the 'Academic Notes' section below.
Core Capstone Seminar - COR 356 IS ELR – 4 credits


The topic of this seminar changes every semester as the faculty member in residence changes.



Fall 2016: London: Culture, Place and Story
Dr. Kathy Lyday (English)
This course will focus on how culture, place, and story influence one's personal and group identity development. Because London is so multicultural and rich in history and many kinds of literature (the "stories"), we will consider historical, anthropological, and literary materials relating to culture and identity and apply them to topics of interest and importance in British society. Thus this course will explore theories and topics of interest in the study of culture, place, and story with a particular focus on the multicultural context of Great Britain. This course is writing intensive.
Spring 2017: London's Eye: Examining Urbanization
Dr. Mark Kurt (Economics)
It is argued that the city is humankind's greatest invention. In this course, we will use London as a case study to explore three themes: cities as economic engines, cities as dynamic systems and how cities impact individuals, community, and society. We will explore: functions cities serve; the role of markets to organize economic activity drawing in people and resources; the creation of innovation and culture through agglomeration; the impacts of population density on health; and the dynamics of urban expansion, decline and redevelopment. Throughout this course we will use these topics and more to understand how London impacts individuals, communities and society at large. This course is writing intensive. Open to students in the third or fourth year of study.
Fall 2017: TBA
Dr. Michael Matthews (History)
Academic Notes
---
General Program Dates
Generally, the spring term will run as follows:
Arrival: Early January

Mid-Term Break: Early March

Departure: Late April

Generally, the fall term will run as follows:
Arrival: Early September

Mid-Term Break: Late October

Departure: Late December
---
Cost
Costs for study abroad vary program to program and will not be exactly the same as on-campus costs of attendance at Elon.
For cost information for this program, please view the budget sheets:
---
Scholarships/Travel Grants
Need-based scholarships are available for Elon semester programs through the GEC. For additional information on scholarships or other funding for study abroad, see the Funding for Study Abroad page.
If you qualify for a travel grant through any of the fellows or scholars programs, see the appropriate program director for more information on how to apply the grant to your study abroad program. Visit the Deadlines and Events Calendar for travel grant deadlines.
FIE offers scholarships to students studying in London.
---
Housing
FIE offers student accommodations based in converted Victorian-era townhomes in historic and charming Kensington, just a few minutes walk from the Foundation House Study Center. Students can live in double, triple, or quadruple rooms. Most of these rooms are connected to a larger apartment with other rooms. Apartments can range from three to 18 students. Each apartment has a shared kitchen, living space and bathrooms. Students will have access to laundry facilities though they may not be in their individual residence. Students will live in one of four residences and will be notified of their housing assignment approximately one month prior to arrival.

Learn more about FIE's residences.
---
Eligibility
A minimum GPA of 2.5 is required.

Sophomore, junior, or senior standing is required.
---
Applications
Students must complete the online Elon University Study Abroad Application by the published deadline. See the Deadline and Events Calendar for the most up-to-date deadline information. Applications are generally accepted one year in advance.
---
Orientations
A successful semester abroad is dependent upon adequate preparation. Students will participate in a series of mandatory orientations during the semester prior to studying abroad. These orientations will address issues of academic, cultural, logistical, financial, and personal preparation, as well as health and safety. Failure to participate in the required orientations will result in dismissal from the program. Any financial losses incurred by this dismissal, including program fees and international airfare, will be fully the responsibility of the student.
View the pre-departure orientation schedule for semester programs.
Once the orientation schedule is set, students will be notified by e-mail of the times, dates and locations.
---
Additional Information and Links
Want to know more? Join the Global Education Center Facebook page to connect with alumni and other prospective students.

Global Ambassadors are GEC student representatives who have participated in one or more study abroad programs, and have been trained to speak about their experiences. You can be in touch with current Global Ambassadors via email, or contact past study abroad participants who have attended your program. They are looking forward to hearing from you!
Embassy, Consulate, and Visa Resources
Transportation
General Tourism
LGBTQIA Resources

Share
We are all humans. Though cultures may differ along with race, religion, and outlook on life, we are really all quite similar at the root of our humanity.
— Keith Hale, Spring 2013
Read what others have said about this program.
Term

Year

App Deadline

Decision Date

Start Date

End Date

Spring

2016

09/17/2015 **

Rolling Admission

01/06/2016

04/24/2016

NOTE: The priority deadline is April 30. After April 30, this program will continue to accept applications on a rolling and space-available basis until September 17, and applications will be reviewed within two weeks of submission.

The start dates and end dates listed reflect the dates students are expected to arrive in and depart from the host location and reflect the best information available to the Global Education Center. Please do not purchase plane tickets based on these dates. Individual programs will provide updates after your acceptance to the program.

Please view the Deadlines page for more information.

Fall

2016

02/18/2016 **

Rolling Admission

08/31/2016

12/18/2016

NOTE: Below are the application deadlines for this program.

Open Period: Oct. 15 to 11:59 PM, Nov. 12. All applications completed in the Open Period will be reviewed by Dec. 1.

Rolling Period: Dec. 1 to 11:59 PM, Feb. 18. All applications completed in the Rolling Period will be reviewed within two weeks of submission.

Please view the Semester Deadlines page for payment and cancellation deadlines.

The start date and end date listed reflect the dates students are expected to arrive in and depart from the host location and reflect the best information available to the Global Education Center. Please do not purchase plane tickets based on these dates. Individual programs will provide updates after your acceptance to the program.

Spring

2017

09/15/2016 **

Rolling Admission

TBA

TBA

NOTE: Below are the application deadlines for this program.

Open Period: Apr. 5 to 11:59 PM on Apr. 28. All applications completed in the Open Period will be reviewed by May. 10. Students that apply for the GEC Access Scholarship during the Open Period will be notified in June.

Rolling Period: May. 10 to 11:59 PM on Sept. 15. All applications completed in the Rolling Period will be reviewed within two weeks of submission. Students that apply for the GEC Access Scholarship during the Rolling Period will be notified in October.

Please view the Semester Deadlines page for payment and cancellation deadlines.

The start date and end date listed reflect the dates students are expected to arrive in and depart from the host location and reflect the best information available to the Global Education Center. Please do not purchase plane tickets based on these dates. Individual programs will provide updates after your acceptance to the program.


** Indicates rolling admission application process. Applications will be reviewed on a space-available basis and applicants will be notified of their application status within two weeks of submission.

Indicates that deadline has passed