This page is the brochure for your selected program. You can view the provided information for this program on this page and click on the available buttons for additional options.
India: Public Health Practicum - Winter
Program Terms:
Winter

Restrictions:
Elon applicants only
Budget Sheets
Winter

Term

Year

App Deadline

Decision Date

Start Date

End Date

Winter

2015

03/20/2014

04/03/2014

01/02/2015

01/24/2015

NOTE: See the Deadlines webpage for the most up-to-date information on important application and cancellation dates.

11 AM, March 4 - 11:59 PM, March 20, 2014: Priority application period for Winter Term 2015 programs.

Apr. 3, 2014: The GEC will begin to send notifications via email for all applications received by the priority application deadline.

Apr. 17 - Sep. 8, 2014: New applications will be accepted and reviewed on a space-available basis.

Sep. 8, 2014: Final application deadline for Winter Term 2015 programs.

The start date is the date students are expected to meet at the U.S. departure airport. The end date is the date students will meet back at that same airport.

These dates reflect the best information available to the GEC but are subject to change. Please do not purchase domestic flight tickets based on these dates. Individual programs will provide additional information in the fall semester prior to the program.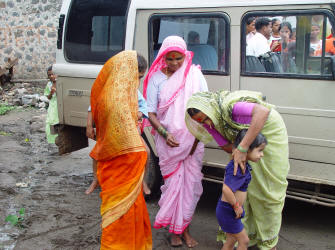 Course Information
The Winter Term course fulfills the Public Health Studies Practicum or may serve as a PHS elective.
This Winter Term course satisfies one unit of experiential learning toward fulfillment of the Experiential Learning Requirement.
Grades count toward an Elon GPA.
The practicum is a field experience designed to orient students to various areas of public health work. Three weeks of observation and practice at the Comprehensive Rural Health Project, Jamkhed, and discussions with staff/volunteers will allow students to explore various aspects of public health practice. Student learning will be guided and enhanced through course readings, discussions/seminars, and written assignments. The goal of this course is to provide the student with an overview of public health work in a cross-cultural, global setting and with exposure to a wide range of experiences in the field. The practicum serves to integrate previous course work and learning experiences.
This course will immerse students in the work of the Comprehensive Rural Health Project (CRHP) in Jamkhed, located in Maharashtra, India. As described on their website, CRHP "(H)as been working among the rural poor and marginalized for over 40 years. By partnering with village communities and expanding upon local knowledge and resources the project aims to effectively meet the immediate and long term needs of these groups, especially women. With values of compassion, justice, respect and trust, CRHP works to empower people, families and communities, regardless of caste, race or religion, through integrated efforts in health and development."
CRHP was one of the first programs to utilize Village Health Workers--women trained in basic health care and community development--a highly successful approach that has been emulated worldwide. Other programs include a mobile health team that travels to villages to provide health care and facilitate development activities, Women's Development Groups, Farmers' Clubs for men, and a hospital/outpatient clinic.
Students will receive a thorough orientation to the CRHP approach and will see their work in action in the surrounding villages. We will have faculty-led class meetings as well as site visits and trainings conducted by CRHP staff. Once oriented, students will work with translators in the hospital and with the mobile health teams to provide a range of services to the community. Additionally, through close interactions with our partners at CRHP, Elon students will develop an appreciation for the lifestyle in Jamkhed, for the concerns and aspirations of the community, and for the successes, needs, and strategies of CRHP. Students will also explore local culture, history, political history and structures, and the role of NGOs in the developing world.
We will be staying on the grounds of CRHP in dorm-like accommodations for most of the course (meals are provided at CRHP).
Tentative Itinerary
Arrive Mumbai and travel to CRHP in Jamkhed, Maharashtra

Orientation to CRHP and rural development
Visit cattle market in Jamkhed
Travel to nearby Aurangabad and visit the fort
Visit Ellora caves (see: http://whc.unesco.org/en/list/243) and silk factory
Visit to SOSVA Training and Promotional Institute in Pune
Note: Itinerary is subject to change due to availability of local facilities and scheduling issues.
Eligibility & Application Deadlines
The eligibility requirements specific to this program are listed in the Fact Sheet at the top of this brochure.
**NOTE: Public Health Studies (PHS) major are given application preference for this program. Students who are not PHS majors will be placed on a wait list.**
See the Deadlines and Events Calendar for the most up-to-date deadline information.
Mar. 4 - Mar. 20, 2014: Priority application period for WT 2015 programs
Apr. 3, 2014: The GEC will begin to send notifications via email for all applications received by the March 20 open application deadline.
Apr. 17 - Sep. 8, 2014: Incoming applications will be reviewed on a space-available basis.
Sep. 8, 2014: Final application deadline for WT 2015 programs
Cancellation Policy
Cancelling your participation in a program can only be done by completing a cancellation form, and submitting it to the Isabella Cannon Global Education Center. Students submitting a cancellation form for WT Programs are subject to the following payment schedule:
Sep. 8, 2014: Students who cancel after this date will not have the deposit returned.

Sep. 29, 2014: Full payment deadline

Sep. 30 - Oct. 13, 2014: Students who cancel between these dates will still be responsible for 50% of the cost of the program.

Oct. 14 - Oct. 31, 2014: Students who cancel between these dates will still be responsible for 75% of the cost of the program.

As of Nov. 1, 2014: Students who cancel after November 1st will still be responsible for the full program cost.
Note: You are responsible for the costs noted above if you cancel regardless of whether you have paid the program fees at the time of cancellation.

Deposit Refunds - If you have paid the deposit and are cancelling your participation prior to the deposit refund deadline, the amount will remain as a credit on your account to be applied towards the following semester's billing. If you have any questions about your deposit, you may contact the Bursar's office at bursar@elon.edu or 336-278-5300.

*All students are automatically enrolled in a travel insurance policy through iNext, an outside insurance provider. This policy covers students who must cancel their participation due to serious issues of physical health to the student or an immediate family member (parent or grandparent) that occur after October 1. In some instances (evaluated on a case-by-case basis) the travel insurance may insure against changes in mental health. The insurance does not cover any other changes in
circumstances such as disciplinary or academic status; job, internship, graduate school or theatrical performance opportunities; leadership opportunities on campus; fear; other personal issues. Students who must cancel their participation after the final day to have the $400 deposit refunded may be able to seek a refund through the travel insurance company.

If airline bookings have already been made by the time of a student's cancellation, some airlines may issue the student a voucher for the value of the ticket less some penalty fee for change in ticketing. These are usually valid for 12 months with the airline issuing the ticket. The airline can provide specific details.

If you have any questions regarding this policy, please contact Woody Pelton, Dean of International Programs. We encourage you to address any questions you may have as soon as possible, as a delay in doing so could result in increased charges for which you may be liable.

Cost
Costs for study abroad vary program to program and are in addition to the tuition for Winter Term (included in fall semester tuition/bill).
Basic cost information is available on the
Cost and Credit Chart
. Detailed cost information is available on the budget sheet (link at top of page).
The cost of this program includes:
Shared accommodations
Meals while staying at CRHP
International health insurance
Cancellation insurance
Transportation to all course-related activities
Admission to all scheduled sites, museums, and cultural events
Faculty and CRHP educators
Round-trip international airfare from the US departure airport
The cost of this program does not include:
Meals while not at CRHP
Personal spending money
Medications/vaccines
Books
Optional activities
Domestic flights to the US international departure airport
Baggage fees

Scholarships/Travel Grants
Need-based scholarships are available for Elon Winter Term programs through the GEC.
If you qualify for a travel grant through any of the fellows or scholars programs, see the appropriate program director for more information on how to apply the grant to your study abroad program. Visit the
Deadlines and Events Calendar
for travel grant deadlines.
Additional Links
Read blog posts from students on this program in years past and access blogs for other Winter Term programs on the
Study Abroad Blog
.
Want to know more? Like the GEC
Facebook page
to chat with alumni and prospective students and receive study abroad updates.
Global Study Ambassadors (GSAs) are GEC student representatives that have participated in one or more study abroad programs and have been trained to speak about their experiences. You can be in touch with
current GSAs
via email, or contact
past study abroad participants
who have attended your program. They are looking forward to hearing from you!
Department of Health and Human Performance
Public Health Studies Program
CB 2525, 230 Koury Athletic Center
336.278.5840